Season Update
---
---
1) Logo: Macdonald Ringette Association has a new look. Thank you to Taylor, Melia, Abby, Alison, and Maggie for your valuable contributions to our new logo. We are proud to incorporate elements of each of your design submissions into our final logo! This season we will use our new look on our clothing and social media sites, and we look forward to incorporating our new look into our on-ice attire next season!
2) Online Clothing store is now open: If you are interested in purchasing new Wildfire clothing, please check out our online store. Orders close on October 13, 2021, and delivery by team will be arranged in November.
Wildfire Store: https://teamstores.carberryinternational.com/Wildfire-Ringette-Home-s/171.htm
3) Participation Agreement - ACTION REQUIRED:Ringette Manitoba has asked us to share a link to the Participation Agreement on their website. They require each participant (players, bench staff, officials and timekeepers) to complete the agreement. Please follow this link and complete the agreement for each participant in your household:
https://mbringette.wufoo.com/forms/mq5wybl0359ew8/
4) Reminder about ice times this weekend: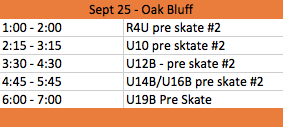 5) Regular Season Skates: Our regular season ice starts October 1st with our facilities. Team formations are still being finalized, and will be completed after the amalgamation meetings on September 30th. Once finalized, your bench staff will be in touch with you about your ice schedule. In the meantime, we can advise that the first skates for each age group will be as follows:
R4U - Friday, October 1st at 5:45pm in Oak Bluff
U10 - Friday, October 1st at 7pm in Oak Bluff
U12B - Thursday, October 7th at 7pm in Oak Bluff
U14A - Tuesday, October 5th at 8:15 in Oak Bluff
U19A - Thursday, October 7th at 815 in Oak Bluff
U14B, U16B, and U19B - to be determined (following the amalgamation meetings on September 30th)
6) Player Development Clinics - we are excitedly working on clinics for player development. While final details will be communicated in the coming weeks, we can confirm that MRA will again be hosting goalie clinics and power skating on Monday nights in Oak Bluff during the season. We are happy to be working with Brooke Ens and The Rink - Player Development for our power skating.
As always, if you have any questions, please contact us at: info.macringette@gmail.com